Jeremy & Tiffany Wallin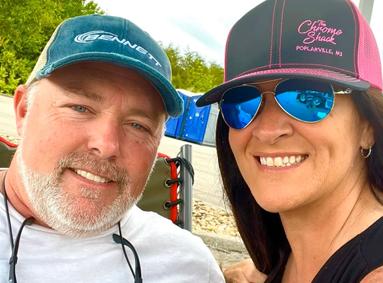 Jeremy and Tiffany Wallin are team drivers behind the wheel of a 2017 Freightliner Coronado known as "The Girl Next Door." They are owner-operators leased onto Bennett Motor Express out of McDonough, GA, pulling a step deck.
With 30 years of driving experience, Jeremy is not only a seasoned driver but also a skilled diesel mechanic and former entrepreneur. He owned a diesel and chrome/light shop for 13 years and managed his own small trucking company with seven trucks and drivers. Tiffany has been driving for 1 1/2 years. Before trucking, she was a dean's assistant at the University of Tennessee.
Their truck, "The Girl Next Door" has been featured twice in Overdrive magazine for its lighting, chrome details, and stereo setup. Beyond the road, Jeremy and Tiffany share a love for adventure. They enjoy scuba diving, white water rafting, exploring authentic restaurants, and visiting national parks. Their passion for trucks extends to participating in truck shows throughout the country.