12 Volt Desserts
May 21, 2020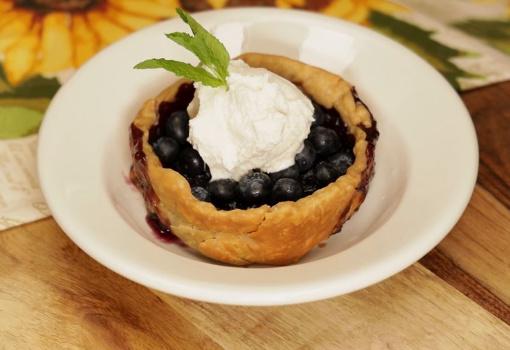 Who said you can't make dessert in the cab of your truck? We certainly did not! With fewer restaurants open and food availability down, RoadPro is here to help keep your cooking interesting. Try out these dessert recipes to make in your 12 Volt Appliances!
1. Bread Pudding
Ingredients:
3 Slices of Cinnamon-Raisin Bread
1/3 Cup Raisins
2 Eggs
1 1/3 Cup Milk
6 Tbsp Brown Sugar
2 Tbsp Butter, melted
1 Tsp Cinnamon
½ Tsp Nutmeg
Dash of Salt
Directions:
1. Cube the bread.
2. Grease a disposable RoadPro Portable Stove pan.
3. Add the cubed bread and raisins, then place into stove.
4. In a bowl, add eggs, milk, brown sugar, butter, cinnamon, nutmeg, and salt.
5. Whisk to combine.
6. Pour egg mixture over the bread.
7. Let stand for 15 minutes, and make sure bread is soaked in the mixture.
8. Bake for 1 hour and 15 minutes.
9. Remove from oven and enjoy!
2. Blueberry Pie
Ingredients:
1 Pie Crust
1 ½ Cups Blueberries
¼ Cup Sugar
½ Tsp Cornstarch
1 Tbsp Water
1/2 Tbsp Lemon Juice
Directions:
1. For best results, line your RoadPro Slow Cooker.
2. Unroll the pie crust & press into the Slow Cooker. Set aside.
3. Add blueberries, sugar, cornstarch, water, and lemon juice to your RoadPro Saucepan.
4. Stir together and let the mixture thicken, 20-30 minutes. Then cool.
5. Pour blueberry mixture into the crust.
6. Crimp the edges and cover the slow cooker with a towel then the lid.
7. Cook for 3 hours.
8. Remove from Slow Cooker and serve.
Tips:
1. Let pie crust come to room temperature before unrolling otherwise it will crack.
2. If you do not have liners for your slow cooker, you can also use parchment paper. Cut the parchment paper into strips to make it easier to fit into slow cooker. Criss cross strips so that entire bottom of the slow cooker is covered, and the edges of the parchment paper are sticking out of the top of the slow cooker.
3. To place pie crust in slow cooker, fold in half. Place in slow cooker with edges up and gently open the pie crust in the slow cooker and smooth crust to sides and bottom.
4. There should be enough pie crust scraps leftover to create a top crust for your blueberry pie, if desired. They can also be used to patch any holes or tears in the bottom of your pie crust.
Disclaimer: The sides of the slow cooker get hot, fold the sides of the towel on top of the slow cooker lid.
For a look at all of RoadPro's 12 Volt recipes, check out our video library.
Join the discussion in the comments! Have you made any desserts in our product?