2019 Trucker Appreciation Events
September 6, 2019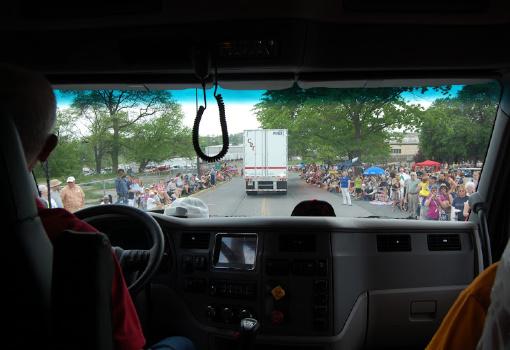 The month of September sees a lot of truck driver appreciation. Many truck stops will host events, free meals, and more to extend their appreciation to truckers. This year, there are a few major participants who are going above and beyond with their appreciation.
Pilot Flying J is celebrating drivers all month long with free offers in their mobile app. They are featuring daily freebees for popular drinks, deals on food and merchandise. They are also offering free showers and mid-trip inspections.
Additionally, from September 9 through 15, professional drivers will receive 100 myRewards points when mobile fueling with the app.
From September 8 through 14, Trinity Logistics will be at truck stops around the country handing out small tokens of appreciation to the truck drivers who pass through. They will be hitting stops in New Jersey, Idaho, Texas, Missouri, and more! Click here to find out where they will be.
3. Loves
Love's is using their My Love Rewards program to thank their members who are professional drivers. Members can enter to win 1,000,000 points by swiping their My Love Rewards card every day in September. Each swipe is another chance to win!
We are proud to be sponsoring the 18th Annual Southern Classic Truck Show, on September 14th in Lincolnton, NC. This is "the best truck show in the South" with a portion of its proceeds benefitting Relay for Life. Along with this event, you may see us out in the Central Pennsylvania area passing out cards and goodies to drivers at different travel centers. We will also be giving out a brand-new hat and $10 digital visa gift cards to all Brake Time members. If you're a truck driver and have not joined the free, online community, make sure to join to be on next year's list!
5. TA Petro
TA Petro is hosting trucker appreciation events at over 170 locations nationwide. Their events include cornhole tournaments, snacks, window washing, goodie bags, DJs, and more! Check out all of the event locations and activities taking place at each stop. You may also see friends from St. Christopher Trucker's Relief Fund and Hope from Mother Trucker Yoga, as they make their way to several of the TA trucker appreciation events.
TA also has special offers being delivered right to UltraONE members via email all month long.
6. Swift
Swift Transportation is hosting events at each of their terminals from September 9 through 13. Each event will have a free, served meal, music, games, giveaways and more! For specific event times, swift drivers need to check in with their terminal. On September 10, RoadPro will be helping out at the Harrisburg, PA Terminal, so make sure to stop by if you can!
Know of any major trucker appreciation events that we didn't mention? Share with us in the comments below!