Meals to Warm You Up In The Cab Of Your Truck
November 27, 2019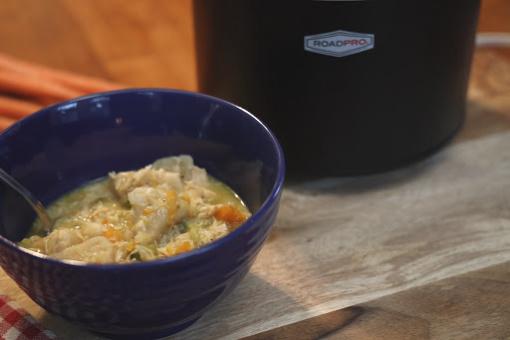 Stay warm this winter with these three delicious 12-volt recipes you can make in your truck cab. Whether you prefer the RoadPro® slow cooker, saucepan, or portable stove, there is something for everyone. Which one will you make first?
Chicken and Dumplings
Ingredients:
¼ onion, chopped
½ tsp oregano
Salt
Pepper
¾ cup chicken broth
1 can cream of chicken soup
1 celery stalk, chopped
1 large carrot, chopped
½ cup frozen peas
1½ garlic cloves, minced
2 biscuits, cut into bite-sized pieces
1 cup shredded chicken, cooked
Directions:
Combine onion, oregano, salt, pepper, chicken broth, cream of chicken soup, celery, carrot, peas, garlic and biscuits in a RoadPro Slow Cooker.
Stir and cover.
Cook for 4 hours, or until biscuits are cooked through.
Add chicken.
Stir and cover.
Let chicken heat up.
Serve
Ham and Cheese Risotto
Ingredients:
1 tbsp. cooking oil
1 shallot, chopped
1 garlic clove, chopped
¾ cup Arborio rice
6 tbsp. dry white wine
Salt
Pepper
2 cups chicken stock
1 cup corn
4 oz. ham, cubed
½ cup white cheddar cheese
2 tbsp. chives
Directions:
Heat oil in a RoadPro Saucepan over medium heat.
Add shallot and garlic, cook until softened. Stirring occasionally.
Add rice. Cook, stirring until opaque.
Add wine (or substitute with vinegar). Stirring occasionally, until liquid is absorbed.
Season with salt and pepper
Add ½ cup chicken stock. Stir until absorbed
Repeat 2 more times.
Add remaining ½ cup chicken stock and corn. Stirring until rice is tender and corn is cooked through.
Stir in ham. Cook until warmed through.
Stir in cheese until melted.
Add chives and season with sat and pepper.
Serve immediately.
Meatloaf
Ingredients:
1 lb beef
3 oz. stuffing mix
1 egg
¼ cup parmesan cheese
¼ cup onion, chopped
½ green pepper, chopped
¼ cup ketchup
¼ cup water
Dash of parsley (optional)
Directions
Add all ingredients to mixing bowl and combine.
Add ¼ cup water to the bottom of loaf pan.
Place formed meatloaf into loaf pan.
Place pan into a RoadPro Portable Stove.
Bake for 2 hours.
Carefully remove from stove.
Slice and serve.