Truckers, Win A Trip to Daytona!
September 25, 2019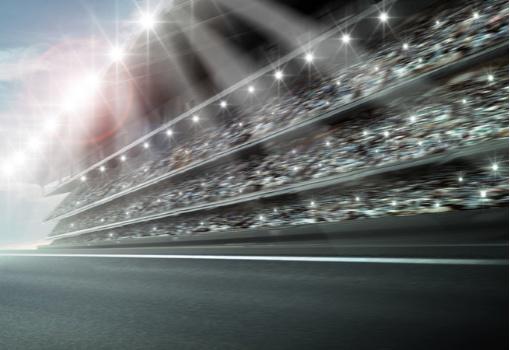 The Race To Daytona Sweepstakes, presented by RoadPro Family of Brands, launched on August 27th and runs until October 28th. One lucky winner will receive an all-expenses paid trip for two to the Daytona 500 in February of 2020. 8 weekly winners will also receive a $50 Pilot Flying J gift card just for entering.
Participating Pilot Flying J stores now have a Daytona display specifically for the sweepstakes, that features a variety of products with digital rebate offers. If you purchase any product on the display, your receipt submission will result in automatic entry into the Sweepstakes. However, what some may not know is that you don't have to purchase a product to enter…
To enter without purchase, simply take a photo of the Daytona display in store. Then, send that photo via text to 80160 using keyword "DAYTONA". It's as easy as that!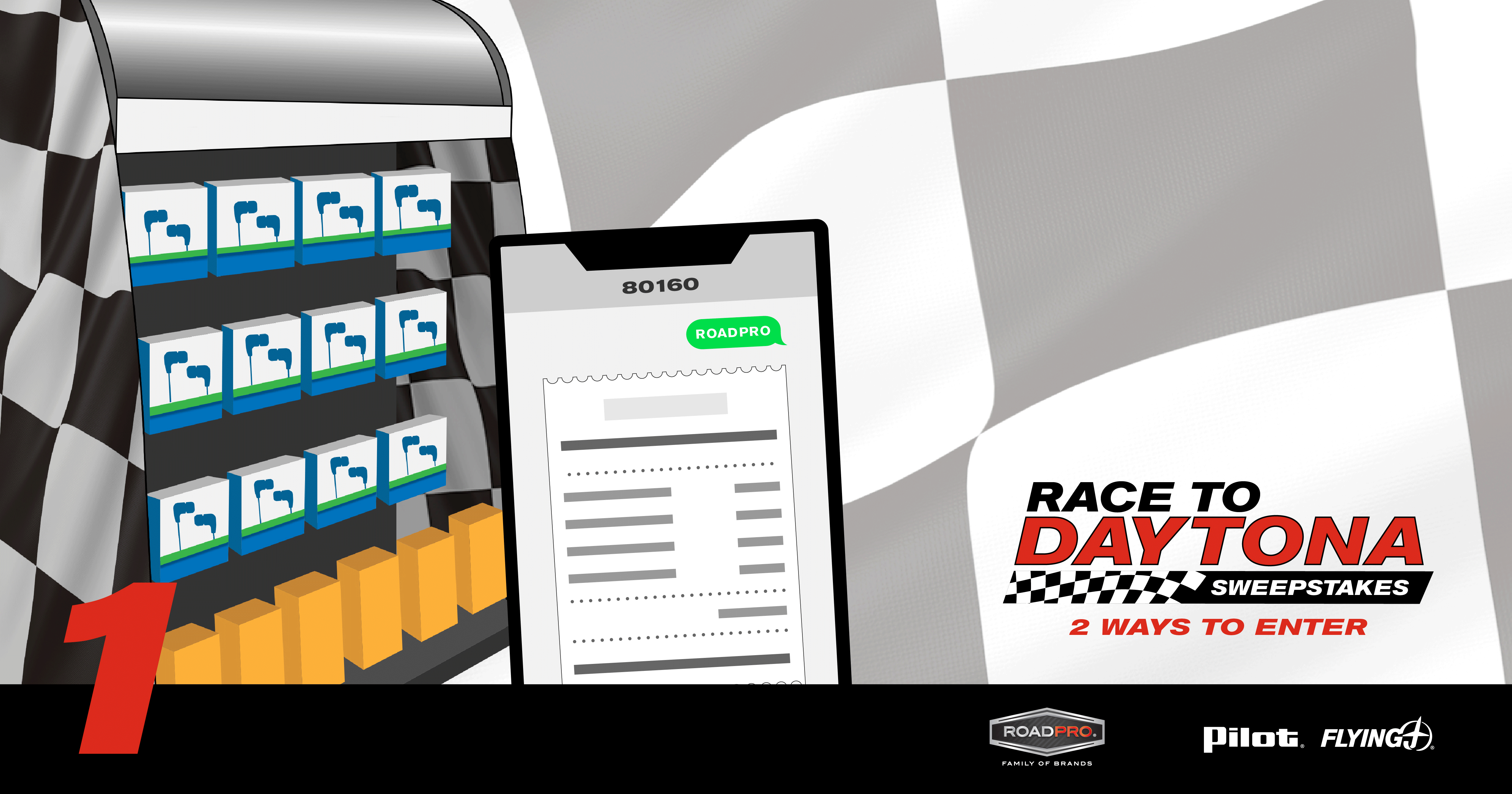 The Grand Prize Winner will receive:
- Round-trip plane tickets for two to Daytona Beach, Florida
- A three-day, two-night stay at a nearby hotel
- Two tickets to the Daytona 500 Event
- Transportation to and from airport, hotel, and event
- $300 Visa Gift Card to cover meal expenses
Don't miss your chance to win! Visit any participating Pilot Flying J store today to enter.
Participating Stores:
1. Pilot Travel Center #1012
1300 N. Grand Avenue
Mt. Pleasant, IA 52641
2. Pilot Travel Center #594
2815 Singing Hills Blvd.
Sioux City, IA 51111
3. Flying J #576
8051 Bagley Avenue
Northfield, MN 55057
4. Flying J #1086
6252 State Rte. 18 East
Marion, IN 46952
5. Flying J #1061
4939 West Chestnut Expressway
Springfield, MO 65802
6. Flying J #678
685 Highway 80 East
Pearl, MS 39208
7. Flying J #711
1011 North Mountain St
Blacksburg, SC 29702
8. Flying J #713
111 Mill Branch Road
Latta, SC 29565
9. Flying J #720
1420 Hwy 96 North
Fairview, TN 37062
10. Flying J #722
800 Watt Road
Knoxville, TN 37932
11. Flying J #768
1300 N. Corrington Avenue
Kansas City, MO 64120
12. Mr. Fuel #719
2945 Burr Street
Gary, IN 46406
13. Pilot Travel Center #9
6830 Franklin-Lebanon Road
Franklin, OH 45005
14. Pilot Travel Center #29
6900 Old U.S. 27
Fremont, IN 46737
15. Pilot Travel Center #40
2031 West Ryan Road
Oak Creek, WI 53154
16. Pilot Travel Center #46
2929 Scottsville Road
Franklin, KY 42134
17. Pilot Travel Center #47
259 Cherry Blossom Way
Georgetown, KY 40324
18. Pilot Travel Center #50
489 Pendleton Road
Sulphur, KY 40070
19. Pilot Travel Center #52
535 Waldron Road
Lavergne, TN 37086
20. Pilot Travel Center #60
2064 Homestead Road
Bowman, SC 29018
21. Pilot Travel Center #63
110 Frontage Road
Piedmont, SC 2967
22. Pilot Travel Center #64
1521 North Main Street
Summerville, SC 29483
23. Pilot Travel Center #66
5888 Highway 53
Braselton, GA 30517
24. Pilot Travel Center #71
7001 Highway 21
Port Wentworth, GA 31407
25. Pilot Travel Center #75
6109 US 43 South
Satsuma, AL 36572
26. Pilot Travel Center #82
4301 South Main Street
Laplace, LA 70068
27. Pilot Travel Center #90
7300 West Okeechobee Road
Fort Pierce, FL 34945
28. Pilot Travel Center #95
493 East State Route 44
Wildwood, FL 34785
29. Pilot Travel Center #1021
853 Interchange Drive
Holland, MI 49423
30. Pilot Travel Center #1030
12680 S. Kedzie
Alsip, IL 60803
31. Pilot Travel Center #1042
7501 South Harlem Ave
Bridgeview, IL 60455
32. Pilot Travel Center #1047
4075 Jones Branch Road
Jacksonville, FL 32219
33. Pilot Travel Center #1063
3365 Sugar Hill Road
Marion, NC 28752
34. Pilot Travel Center #118
7801 Alcoa Road
Benton, AR 72019
35. Pilot Travel Center #131
2010 West Clay Street
Osceola, IA 50213
36. Pilot Travel Center #145
5660 West Sunset Avenue
Springdale, AR 72762
37. Pilot Travel Center #167
2424 East Austin Road
Nevada, MO 64772
38. Pilot Travel Center #171
503 N. Oakwood Street
Oakwood, IL 61858
39. Pilot Travel Center #199
490 North Elm Street
Haughton, LA 71037
40. Pilot Travel Center #231
249 West Cumberland Gap Parkway
Corbin, KY 40701
41. Pilot Travel Center #243
4304 First Avenue
Nitro, WV 25143
42. Pilot Travel Center #254
650 Highway 299
Wildwood, GA 30757
43. Pilot Travel Center #258
2966 Lee Highway South
Troutville, VA 24175
44. Pilot Travel Center #260
310 Cordele Road
Albany, GA 31705
45. Pilot Travel Center #275
3807 Statesville Avenue
Charlotte, NC 28206
46. Pilot Travel Center #331
2605 Bouldercrest Road SE
Atlanta, GA 30316
47. Pilot Travel Center #4598
507 Highway 309
Niota, TN 37826
48. Pilot Travel Center #4597
502 Gordonsville Highway
Gordonsville, TN 38563
49. Flying J #518
2210 Camp Swatara Road
Frystown, PA 17067