Power Inverters - What You Need to Know
July 3, 2020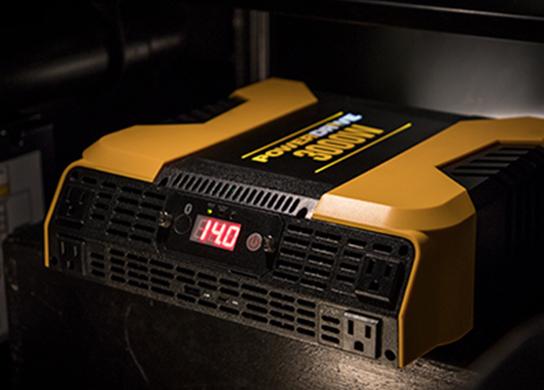 By Kim McDonnell, Senior Manager, Community & Customer Experience
Power inverters can be a lifesaver, especially during the past few months when travel centers and truck stops offered limited options for a hot meal or that hot cup of coffee. If you already have a power inverter you already know how important it is to have one in your truck. Not only to charge and power the devices you rely upon but to also run those appliances allowing you to cook in your truck, make a cup of coffee or keep beverages cool. If you currently have a power inverter or if you are considering buying one soon we thought I may be a good time to share some of the frequently asked questions we receive here at RoadPro:
POWER INVERTER FAQ's -
Why is there a spark when cables are connected?
When connecting your inverter's cables, a slight spark will occur. This is normal. The spark indicates that the capacitors on the circuit board are charging.

Why is the voltage measured with a voltmeter only 95 volts?
A standard voltmeter measures the peaks and valleys of the sine wave output. On a modified sine wave inverter, the peaks and valleys are flatter, resulting in a lower voltage. We suggest using an RMS voltmeter, this will show the actual voltage.

Why is there a voltage drop using high watt devices?
When powering high watt devices on your inverter, you may experience a voltage drop. This drop can occur if the engine is not running and under a heavy load or when the cable is too small for the power draw.

Can an inverter be wired into a transfer switch for house or RV use?
Wiring an inverter into a transfer switch is not recommended as it will short the circuit breaker and damage the inverter.

Can an inverter be used on a solar cell charger/battery system?
PowerDrive power inverters can be powered on any 12-volt battery system. They are also perfect for off the grid renewable power sources if they are not being tied into the power grid or house wiring. Keep in mind, some solar panel systems charge on a higher voltage.

Inverter flashes red and green, what's wrong?
Power inverters have three LEDs: red, yellow, and green. The inverter will constantly rotate the display between voltage and power usage, this is normal.

Why is there no power from the plugs?
If your inverter has no power from the outlets, this could mean there is a fault in the inverter or damage on the circuit board. We suggest resetting the inverter by disconnecting the positive cable and pressing down on the power button for 20 seconds. Wait another 2 minutes, then reconnect the cable and test.

Why is there a buzzing sound coming from the inverter?
The buzzing sound given off by the inverter is an alarm, this goes off if the voltage has dropped below 12 volts. If this happens, you should adjust your cables and fuse accordingly.

How do I reset my inverter?
To reset your inverter, start by disconnecting the positive cable. Then, press and hold the ON button for 20 seconds. Wait two minutes, then reconnect to power.

Why doesn't the Bluetooth connect?
When using the PowerDrive app, your inverter will not automatically connect. To pair your inverter for the first time, you will need to disconnect all other Bluetooth items from your phone. These can be reconnected after pairing.
Remember, it is always recommended that you have a power inverter professionally installed but if you chose to install it on your own please make sure to thoroughly review the owner's manual and instructions. Also, make sure to check out our How-To series on power inverters found on our website under the Video Library tab.