Survival Tips for Winter Driving
November 10, 2020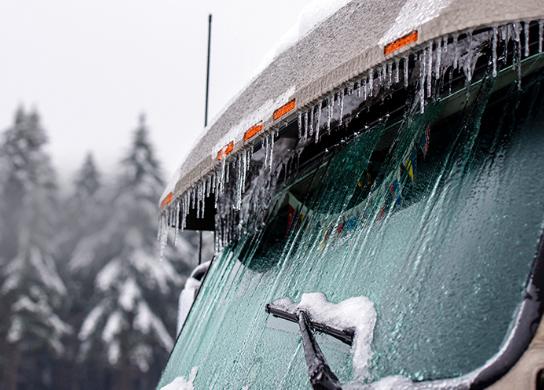 By Robert Greene, Professional Truck Driver and member of the RoadPro Professional Driver Council ​
I will start by saying if you think conditions are unsafe, stay parked! If you choose to roll, remember, easy on and off the gas, turn your engine brake off and give yourself more room. And, for God's sake, don't bunch up! When in frigid temps, be sure to check the truck over when you stop as extreme cold is one of the hardest things to deal with. Be sure to check the fifth wheel area, keep an eye on your air lines as snow and ice can build up, causing them to break or pull away from the glad hands. Spray WD40 on a rag and wipe your tail lights off as this makes it easier to remove snow and ice as keeping them clear will mean others that are behind you in a storm will be able to see you. If you are trying to make the decision to chain up and run or park, pay close attention to the road conditions, and if you have to put 100+ pounds of chain on each tire, it's time to park! No load is worth your life.
Keep a couple of bottles of rubbing alcohol in your truck. If the temperature is expected to drop below freezing, add half a bottle to your windshield washer fluid. This will decrease your chances of the wiper fluid freezing when it hits the windshield. You should also carry extra blankets; I prefer microfiber as they seem to work well when it comes to warmth. Keep a large three-wick candle and a coffee can in your truck. If you become stranded, this creates a small heater and will help keep you warm.
Tracking weather changes is also essential in the winter months, and it is a good idea to have a weather app installed on your phone that will provide the most up to date weather forecast. I utilize the NOAA weather app, but several other apps can track the latest conditions, including Weather Underground, Storm Shield, Weather Channel, and AccuWeather, to name a few. Pick the one that works best for you but make sure you check it often as weather conditions can change quickly.
When you park, drag your brakes to help dry them off. Back up and pull forward 3 or 4 times to create ruts. It will be easier to get out. It's a good idea to spread ice melt before doing this. Once you are parked, be extremely careful on the parking lot. A pair of clip-on cleats is an excellent idea. I have busted my butt more than once, crossing a lot! Walk like a penguin, and take short steps.
Here is a list of items that are a must in the truck:
Shelf-stable foods which don't need to be heated
Extra water
Pocket hand warmers
Extra wiper blades
Kitty litter or ice melt
An adequate supply of warm socks
Energy bars
A raincoat that is large enough to fit over you winter coat
Remember, always keep an eye on the weather ahead. If you choose to chain up and run and have never done it, ask for help! Many of us have needed help the first time we did this, so don't think you can't ask. Finally, I know I have said this several times, no load is worth your life! Do not hesitate to tell your company the weather is too bad.
Thank you for reading my winter and safety tips. Above all, stay safe!
Robert started trucking in 1986 and has been an owner/operator for over 19 years. He has driven everything from oversized to flatbed drop deck, hazmat, reefer, and tankers and enjoys helping other drivers. He is the proud grandfather of 5 beautiful grandchildren who have him wrapped around their little fingers. He spends his time off with his family and friends making memories.