Summer Driving - Keep Cool All Summer Long
July 2, 2021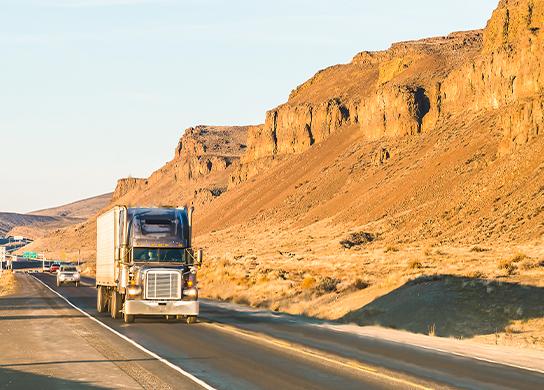 By Kim McDonnell
By mid-June of this year, we had already experienced one of the most extreme heatwaves recorded, impacting most of the country and leaving many states that are already experiencing severe drought in worse shape. As a truck driver, you are well aware of what extreme heat can do to your truck, and you and you should be doing everything you can to be prepared for when those high temperatures hit.
We recently asked our Brake Time community what recommendations they have to stay cool, and here is what they had to say:
"I'm a big believer in plenty of water/hydration," said Doug R., "Also, on really hot days, I leave my work shirt in the closet & wear a hi-vis t-shirt. It's cooler and doesn't require a hi-vis vest, therefore, eliminating a layer."
Paul D. had this to say about workwear. "I buy Under Armour short sleeve shirts and lightweight pants. Pulling a pneumatic tanker requires me to be outside of the truck while unloading. Some places you can be done in an hour, but some stops take much longer, so I am in the heat a lot." He also recommends keeping plenty of water on hand as hydration is critical.
Aaron R recommends cooling towels. He even has a cooling beanie that he claims works great when working in the outside heat. There are several options to choose from on the market. In addition, Duke Cannon makes Cold Shower Cooling Towels that can be located in many truck stops and travel centers. These are all great options to cool you down when the heat is high.
If you don't have access to a cooling towel, you can also roll a few ice cubes in a bandana and tie it around your neck or keep icepacks in a cooler or frozen water bottle. When you start feeling the heat or need to cool down, quickly place the ice packs or water bottle on your neck. Check out our RoadPro 12-volt coolers to help store those icepacks and water bottles without the need for a lot of extra ice.
Most drivers in the community also recommended having a fan in your truck to help keep things cool. Michael H. says the RoadPro Tornado Fan is his favorite. This fan plugs directly into a 12-Volt power port and has a variable speed control with an adjustable swivel base and a mounting clip for quick mounting. RoadPro offers a variety of options in fans to suit your needs. Check them out at any travel center or truck stop.
Others cautioned that if you have leather seats in your truck, remember that the sun hitting those seats will make them very hot and could actually burn you. Place a blanket over the seat, especially whenever you get out of the truck. Remember, your steering wheel can also become too hot to touch, so cover that too whenever you are out of your truck. Try to use a lighter-colored blanket since darker colors tend to attract and absorb more sun.
They also advised you to remember your sunscreen! Yes, even though you think you are protected by being in your truck, that sun beating down on your driver's side window can still cause some damage. Other drivers recommended window shades for the side windows to block the rays and keep things cool.
Lastly, take a break if you need to. Get out of your truck and take time to stretch your legs and go inside the truck stop or travel center to enjoy the air conditioning, get a bite to eat, and relax. Yes, you may be on a strict schedule, but getting out of your cab for just a few minutes can help you cool off and rejuvenate from the sun beating down on your truck.
For more on this discussion and other relevant topics for your trucking lifestyle, go to www.braketime.com.