Get Ready – Truck Shows and Events are Back!
March 4, 2022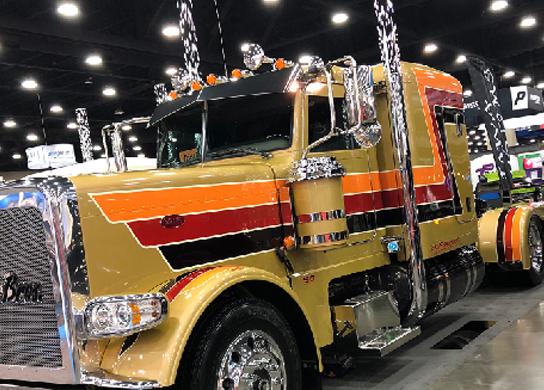 By Kim McDonnell
For the last two years, truck shows and trucking events have been virtual, downsized, limited, or non-existent. Some shows closed down altogether and will not return. The GOOD news is that new smaller shows took center stage throughout the pandemic and continue to grow, and most of the larger events will return this year, promising to be even bigger and better than before.
The Mid-America Trucking Show – which hasn't happened since 2019 – promises it will be worth the wait and claims to have over 1,000 exhibitors and 72,000 plus attendees. Mid-America is promoting more special events, and trucking professionals will be able to see all the new technology in one location. There will also be opportunities to attend informative sessions with the latest topics impacting the industry. Show dates are March 24-26 in Louisville, Kentucky, and if you plan to be there, stop by the RoadPro booth #22035 in the East Hall and say hello. RoadPro will be featuring new products that include a new line of Bluetooth® headsets from RoadKing®, a new offering of PowerDrive® inverters sure to fit all your power requirements and display a unique offering of Cummins® licensed products.
The 75 Chrome Shop will present its 24th Annual Truck Show Extravaganza in April, featuring fun, food and entertainment, and over $25,000 in prizes. Located at I-75 & SR44 in Wildwood, Florida, trucks that wish to take part can arrive beginning on April 22, and each night will feature a light show. This event promises to be a great time and wraps up on Sunday, April 24, with an awards ceremony at 11:00 a.m.
May 8 will see the return of the Make-A-Wish Mother's Day Truck Convoy to its total capacity, moving to a new location at the Manheim Auto Auction in Manheim, PA. In addition to welcoming more drivers to participate, the Convoy Carnival will be in full swing with games, music, and food. There is no fee for truck drivers to register, but each truck must raise at least $100 to participate. RoadPro is proud to be the presenting sponsor at the Convoy and looks forward to seeing all the drivers that continue to impress with their outstanding fundraising efforts. Proceeds from this event cover 75% of the wishes granted in the Susquehanna Valley, helping to bring the life-changing impact of a wish to children in the community.
The following week, May 12-14, Kenly 95 Truckstop in Kenly, North Carolina, will host the East Coast Truckers Jamboree. Then on May 21, Shine in the Pines will take place in Dublin, Georgia, with all proceeds donated to a child in need.
If you love antique trucks, you may want to check out the Antique Truck Club of America's show calendar. There are many regional events throughout the year, and one may be in your area. RoadPro has attended the ATCA's Annual Meet in Macungie, Pennsylvania, which will mark its 42nd year. It is truly something to see and takes place June 17-18.
July 8-9, you might want to check out the Keystone Diesel Nationals at the Lebanon Valley Expo Center and Fairgrounds in Lebanon, Pennsylvania. There is always lots to see and do at this show, including live music, auctions, vendors, a kid's zone, and, of course, beautiful trucks. This show always supports a specific cause and last year's event raised over $16,000 for the family of Mitch Bewley, a truck driver who was killed. RoadPro has proudly supported this event over the last several years and will continue to participate.
Advertised as the World's Largest Truckstop, the Iowa 80 Truckstop, in Walcott, Iowa, also hosts one of the larger trucking events each year. The Walcott Truckers Jamboree will take place July 14-16. This event hosts over 175 exhibits, live music, fireworks, trucking contests, and so much more.
In Carlisle, Pennsylvania, the Carlisle Truck Nationals, August 5-7, promises an action-packed few days, including the Big Rig Show and Shine that awards 15 classes and 10 special recognitions.
September will see several shows as we roll into Trucker Appreciation month. Those shows include Brad Wike's Southern Classic Truck Show, September 9-10 in Maiden, North Carolina, where you can see some rigs from popular trucking movies and other classics. New last year was the S.H.E. Trucking Expo, which will again take place in Chattanooga, Tennesee, September 16-18, providing three days of networking and events to further the careers of women and minorities in trucking. The Truckers4Hope event benefiting Cystic Fibrosis Research kicks off on September 23 and promises an action-packed weekend with a Semi-Truck Show, live music, truck pull, nightly light shows, and a kid's day. From September 28 through October 2, truckers will take part in Ten-Four D.C., where trucks park on the National Mall between the Capitol and the Washington Monument in Washington, D.C. This event allows truckers to communicate and inform thousands of people who pass through the National Mall, answering their questions and educating them on the trucking industry. Also, that same weekend the Mayberry Truck Show and Convoy in Mount Airy, North Carolina, will kick off its second year September 30 through October 1. There will be a convoy, light show, raffles, prizes, live entertainment, fireworks, and more. Proceeds benefit the Brenner Children's Hospital.
You may want to check out an up-and-coming show, the American Truckers Jubilee in Searcy, Arkansas. While smaller than most of those mentioned above, this show is a great few days with food, music, and fun, focused on the Owner-Operator. Show dates are October 29 and 30th.
While these are only a few of the shows that will take place this year, we are happy to report that most shows will be in full swing and will not be restricted as in the past few years. RoadPro is proud to support many of these events and also participate.