Gearing It Up for Fall
September 9, 2022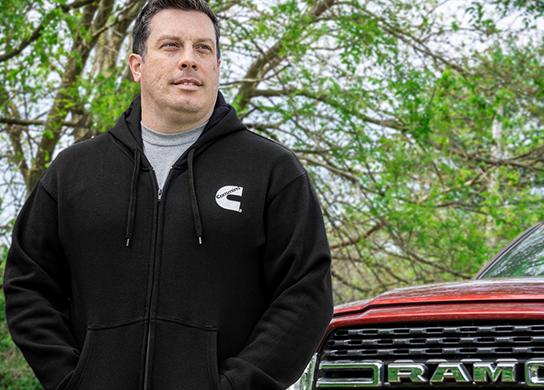 Fall weather is on its way! I don't know about you, but we here at RoadPro look forward to cooler temperatures after this extremely hot summer. You, as a driver, can also look forward to all the new Fall Gear in truck stops and travel centers made especially for your on-the-go lifestyle.
Coming to select retail locations will be a new line of Cummins officially licensed branded apparel. An assortment of short and long-sleeved t-shirts are perfect for those who love Cummins diesel and gas-powered engines. Each is made of heavyweight soft cotton or cotton blend that is durable and fade-resistant. Need something for those cool Fall mornings or nights? Check out the selection of Cummins branded fleece hooded pullovers or full-zip hooded sweatshirts. For all-day comfort, there is also a crewneck sweatshirt. All are made of a soft cotton blend to keep you warm and comfortable all day. A warm winter beanie or low-profile trucker hat round out the apparel line in rich black with that very identifiable Cummins logo. More Cummins branded merchandise will be introduced later in the year, and we will update you as they become available.
Make sure you have the right amount of power available in your truck to cook a meal, charge your laptop, play your entertainment devices, and more. The new line of PowerDrive power inverters has an option for any of your over-the-road power needs. The modified sine wave large capacity power inverters include 3000, 2000, 1500, and 1000 Watts. They have four three-prong AC outlets with port covers, USB and USB-C charging ports, and 39-foot cables. All feature short circuit, temperature, and overload protection. If you need AC power and only can utilize your 12 Volt port, PowerDrive offers a complete line of power inverters from 65 Watts up to 250 Watts to power up your small electronics. Not sure what size inverter you may need? Use our PowerDrive Calculator to help you choose.
PowerDrive also has a new portable power station that will come to the rescue in an emergency. This backup battery is excellent for powering AC devices like phones, laptops, and other smaller electronics. It has two 30prong 150W AC outlets, dual 3.1 AMP USB ports, a 12-volt port, and comes with a DC charging cable and wall charger.
Wilson introduced the large coil 20,000W trucker antenna. With an open helical coil that gives a wide bandwidth (26 to 30MHz) and efficient cooling, it has a tunable 0.200"x48" tapered stainless steel whip. Made of anodized aluminum, it is lightweight, corrosion resistant, and has an excellent SWR match and tuning outside normal CB bands.
These are just a few of the new products you will see in store this Fall to help you roll into cooler temperatures and update your wardrobe and your truck!