How Bluetooth can save your job
July 4, 2022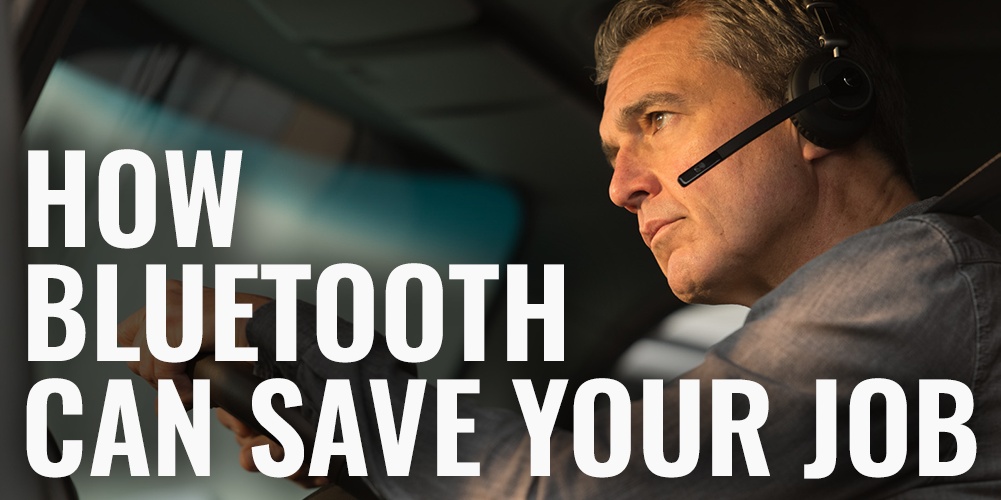 Written by Paul Marhoefer
By now, you've probably heard the same horror stories I have, like the one about the driver with fifteen years at the same company, no tickets or accidents. Then the company installs on-board cameras, the kind that points out toward traffic and only film the driver when there's a critical event. One day, he's looking for " Take it Easy" by the Eagles on Spotify, and his truck attains 70 mph, triggering a critical event. The camera catches him with his smartphone in his hand, and he is summarily fired, his record permanently tarnished.
More severe examples of distraction exist, like the trucker facing murder charges in Kentucky after court records reveal he was watching a video at the moment he fatally rear-ended the driver of a Jeep who was in stopped traffic.
It's no secret that fleets have adopted zero-tolerance policies toward distracted driving. Truth be told, it is a very rare individual who does not have room for improvement in this department, with this gearjammer no exception.
But Randy O'Neal, Safety Analyst at a trucking company in Georgia, sees a huge need for better proactive training." The first thing we do is show the drivers all the capabilities of their onboard Bluetooth speakers," said O'Neal, "We teach them how to do voice-to-text so they can do all that hands-free. We teach them how to select music using vocal commands only." he continued, "Also, we make certain there's a phone mount in every truck. That way, the phone can be operational at all times. Most of our guys use the onboard Bluetooth system provided by Volvo. Those that don't provide their own."
What makes Mr. O'Neal's approach refreshing is that it acknowledges the need for ongoing training in an age of rapid change.
For those of us who don't have the luxury of an onboard Bluetooth system, a state-of-the-art device could pay for itself many times over in the trouble it can save.
For my part, I've been testing out Roadpro's RoadKing 4000 Premium Convertible Bluetooth Headset to up my own compliance game. There's a bit of a learning curve in that the control buttons are configured differently than my trusty old Blue Parrot. That said, the capabilities are exceptional. For those drivers who consider themselves audiophiles and podcast enthusiasts, the headset converts to dual headphone speakers for off-duty listening. While I'm no tech expert, I do know what sounds good, and the sound quality on this device is the best I've ever heard.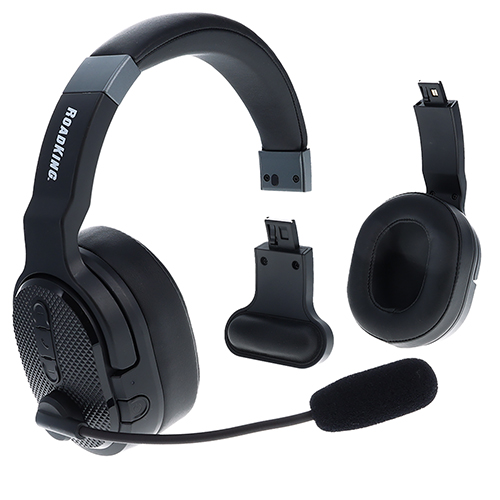 On a recent trip, I discovered that by pressing and holding the switch button, I was able to tell Google to play " The Last of the Cowboys" by Tony Justice, and it played the song with no fumbling around with the device. The voice-to-text option enabled me to send texts in the same manner.

For mounting the phone, RoadPro can help you out there as well with several phone mounts to choose in its MobileSpec line of phone mounts. They include a cupholder mount, dash, windshield, or vent mount.
With scrutiny on drivers' cellphone use on the rise, the federal guidelines include the " one-touch rule." In other words, you've got to get the call placed, the song selected, or the text sent in one touch. Here is the language from FMCSA'S website:
Make sure the mobile telephone is within close enough proximity that it is operable while the driver is restrained by properly installed and adjusted seat belts.
Use an earpiece or the speaker phone function.
Use voice-activated dialing.
Use the hands-free feature. To comply, a driver must have his or her mobile telephone located where he or she is able to initiate, answer, or terminate a call by touching a single button. The driver must be in the seated driving position and properly restrained by a seat belt. Drivers are not in compliance if they unsafely reach for a mobile phone, even if they intend to use the hands-free function.
No Call, No Text, No Ticket!
More can be found here:
https://www.fmcsa.dot.gov/driver-safety/distracted-driving/mobile-phone-restrictions-fact-sheet
So this will be everyone's assignment for next week's run ( including me).
1) Upgrade your phone mount if you haven't already
2) Master the functions of your Bluetooth
3) One touch is all you get, no holding
4) Have fun on your run.
Paul Marhoefer, known in the trucking community as Long Haul Paul, has been trucking off and on since 1979. In addition to being a seasoned truck driver, he is also an accomplished musician whose gritty ballads reflect the hardships and joys of a career which spans four decades over the road. You can find out more about him at longhaulpaul.com