Convoy Feature PLUS Three Steps to Charitable Giving
May 1, 2016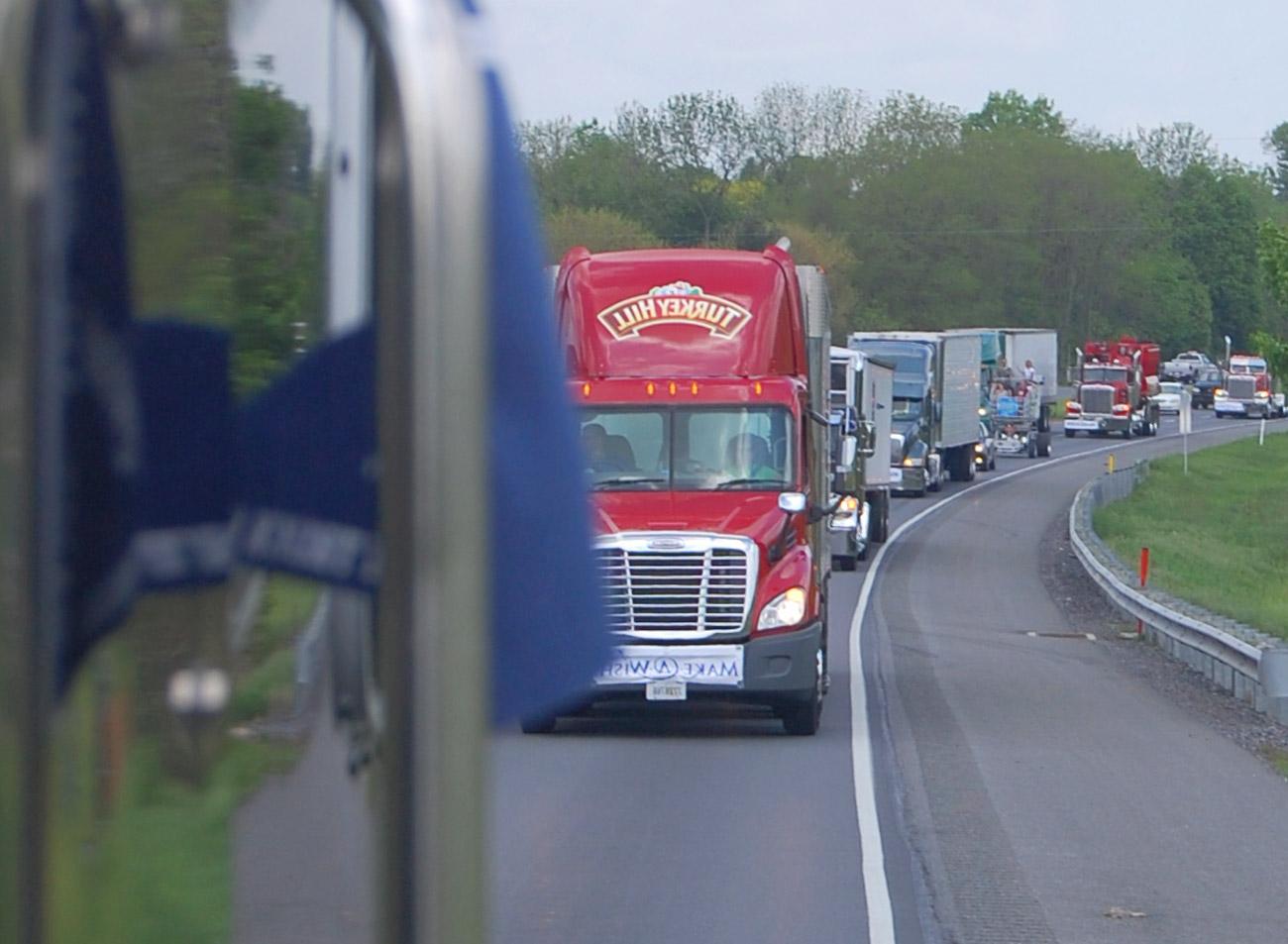 Matt Moyer had to borrow a truck to drive in his first Mother's Day Truck Convoy.
That was in 2012 when Matt was a diesel mechanic with a CDL. He borrowed a truck from his employer because he wanted to repay Make-A-Wish® for what the charity had done for his son, Zach.
May 8 will be Matt and Zach's sixth time in the convoy in Lancaster, Pa., an annual fundraiser for the Philadelphia, Northern Delaware & Susquehanna Valley chapter of Make-A-Wish, a national organization which grants wishes to children with life-threatening medical conditions.
Matt, who became an owner-operator last year, will be behind the wheel of his 2015 Freightliner Coronado and Zach, 11, will be strapped in next to him. Wave, Matt will tell his son, and the boy will stick his hand out the window at the spectators and supporters who line the route of the convoy.
Zach has an extremely rare metabolic genetic disorder called Polyol Pathway Disorder. His body's inability to store sugar correctly has left him wheelchair bound and dependent on a feeding tube. He suffers from seizures, is autistic and can't speak. His father said he is at the developmental level of a three-year-old.
But sometimes the 11-year-old in him peeks through. "He knows more than he lets you know he knows," Matt said.
Zach makes no secret of his love of being in the water. "That's his favorite thing in the world," Matt said.
That's why Make-A-Wish in 2011 bought Zach a surf wheelchair, a waterproof, powered apparatus that floats and uses oversized wheels to plow through a sandy beach.
"We love to go camping and Zach absolutely loves to be near the water and now we can take him right out into the ocean and he loves it," Matt said. "We've had quite a few people look at us strangely when we roll him down the beach and straight into the water."
Matt, who lives in Jonestown, Pa., and drives a tanker for BRT, Inc., said raising money for Make-A-Wish and driving in the convoy is the least he can do for the joy the charity has brought Zach and the rest of the family. He and his wife, Tia, have two other children.
"I want Make-A-Wish to be able to do for other families what they've done for us; I want them to keep doing this for as long as possible," he said.
Sidebar on How to Give to Charity
The Mother's Day Truck Convoy sponsored by RoadPro® Family of Brands is only one of many trucking-related charities, the abundance of which is no surprise if you know how generous truckers can be.
Middle- and lower-income Americans consistently give a larger share of their income than do their wealthier counterparts. Despite the recession, middle- and lower-income Americans increased the share of income they gave to charity from 2006-12, according to The Chronicle of Philanthropy. Americans who earned less than $100,000 a year donated an average of 4.5 percent more during that period. Americans who earned $200,000 or more reduced the share of income they gave to charity by 4.6 percent during that period.
Though there are no studies specific to truckers, professional drivers have the reputation of being big-hearted and willing to donate time and money. They support a wide variety of causes and charities, many of which have nothing to do with trucking.
Personal interests and circumstances dictate charitable giving for many truckers, but others might be puzzled by the wide variety of causes and charities asking for help. If you need help deciding where to give your hard-earned money, here are some tips:
Clarify your values and identify your preferences. Where do you want to help?
Search for charities that meet your criteria.
Eliminate organizations that don't meet your criteria.
Verify a charity's legitimacy and research the organization.
Avoid charities that won't share information or that pressure you.
Trust your instincts. There are plenty of worthwhile charities out there; don't take a chance on one that seems shady.

Sites such as Charity Navigator, Charity Watch, GuideStar and the BBB Wise Giving Alliance provide information about many larger charities, as well as search functions to find credible charities that meet your interests.
Below is a list of five trucking-related charities:
Trucker Charity, Inc. — Provides truckers with emergency housing and meals. Also offers life coaching and mentoring.
St. Christopher Truckers Development and Relief Fund — Provides financial assistance to drivers with medical problems.
Truckers United for Charities — Raises money at trucking events for local charities.
JRB Memorial Fund for Truckers — Provides financial assistance for truckers.
Truckers Final Mile — Provides financial assistance when a trucker is killed or injured in an accident.
Whether it's writing a check to a charity or driving in the Mother's Day Convoy for Make-A-Wish, truckers will continue to give of themselves to help others.